Need assistance with selecting the correct solution to meet your specific requirements?


To see the BAUER Nitrogen Systems Brochure
BAUER MEMBRANE BASED NITROGEN SYSTEMS FOR A WIDE VARIETY OF APPLICATIONS
Industry (Plastic Injection Molding, Inerting)
Oil & Gas (Upstream, Midstream, Downstream, Offshore)
Energy and Alternative Energy (Transformer, Wind, Hydro)
Aerospace
Military
MEMBRANE NITROGEN GENERATION PROCESS
Incoming air is separated inside the membrane using tens of thousands of hollow fibers, each of which is sized to capture N2 molecules. The remaining components (mostly water vapor and oxygen) that make up ambient air are vented away from the membrane inlet before the nitrogen is delivered to the membrane outlet.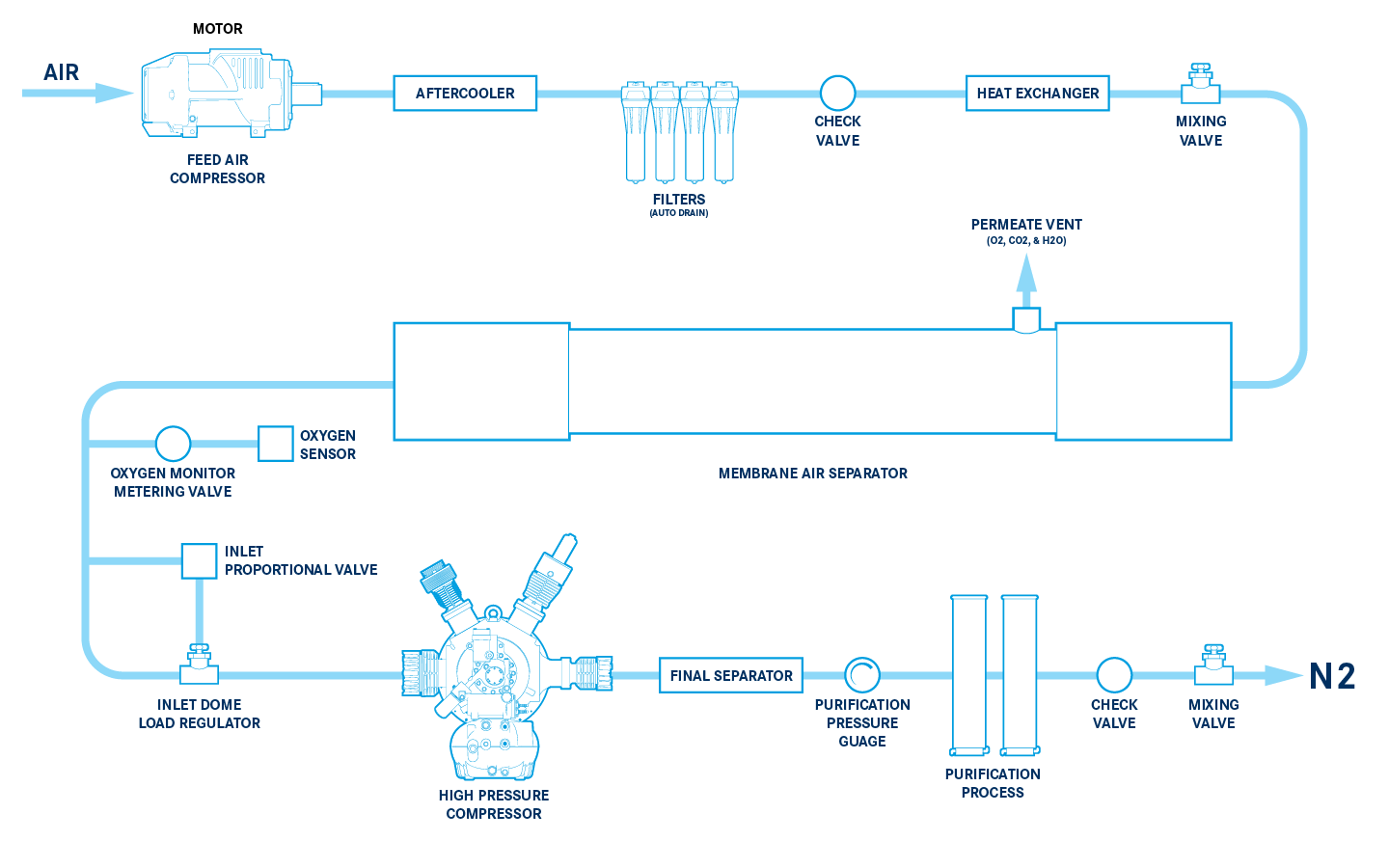 BAUER NITROGEN GENERATION SOLUTIONS RANGE
Model Series
Drive
Use
Final Pressure
Flow Range
N2 Purity Range
 
PSIG
BAR
SCFM
M3/HR
 
BAUER NGM®
Electric
Stationary
150
10
10-750
17-1274
95-99.5%
SNG®
Electric
Stationary
5000
345
9-750
15-1274
95-99.5%
BAUER MNG™ II
Diesel
Mobile
90-5000
6-345
9-16
15-27
98-99.5%
NITROMAX™
Diesel
Mobile
300-5000
20-345
400-950
680-1614
96-99.5%
MEMBRANE NITROGEN GENERATOR SOLUTIONS