Need assistance with selecting the correct solution to meet your specific requirements?


To see the B-VIRUS FREE®  brochure
EFFECTIVE SOLUTION
Free of chemicals and ozone, the B-VIRUS FREE® system uses a specially designed UVC light source to destroy pathogens before the intake air section of the compressor. The UVC wavelength is absorbed into the pathogens' DNA, where the photons destroy the bonds between the DNA strands of the virus, effectively preventing the virus from reproducing.
LOW MAINTENANCE, LOW OPERATING COSTS
The B-VIRUS FREE® compressor intake air filter system has long maintenance intervals to keep operating costs down. The filter does not require replaceable filter cartridges. The UVC light source has an extremely long service life of approx. 2,000 hours and is simple to replace.
EASY INTEGRATION INTO YOUR BAUER COMPRESSOR SYSTEM
The B-VIRUS FREE® compressor air intake filter system can be ordered for any new model VERTECON®, VERTICUS®, BAUER LEGACY®, and UNICUS® breathing air compressor system. The system will also be available as a retrofit kit for older BAUER breathing air compressor systems.
INTAKE PARTICULATE FILTER
Pressure in the compressor draws in air through the intake filter opening. Normal dust particles are removed from the air by the intake filter.
UV PURIFICATION
The specially designed UV light source emits high-energy UVC wavelengths to destroy molecular bonds. This prevents pathogens from reproducing.
OZONE FREE
The BAUER B-VIRUS FREE® filter system produces no harmful ozone.
CONTROL AND DISPLAY
The control unit of the BAUER B-VIRUS FREE® protective filter system monitors, functions, and controls the UV light source. Operational status information is provided by visual (LED) and acoustic signals.
CONNECTION TO COMPRESSOR
The BAUER B-VIRUS FREE® protective filter system is connected to a specially sealed intake hose which works to prevent potential new contamination from leaks between the protective filter and the compressor block.
B-VIRUS FREE Configurations
With UNICUS® 4S or 4i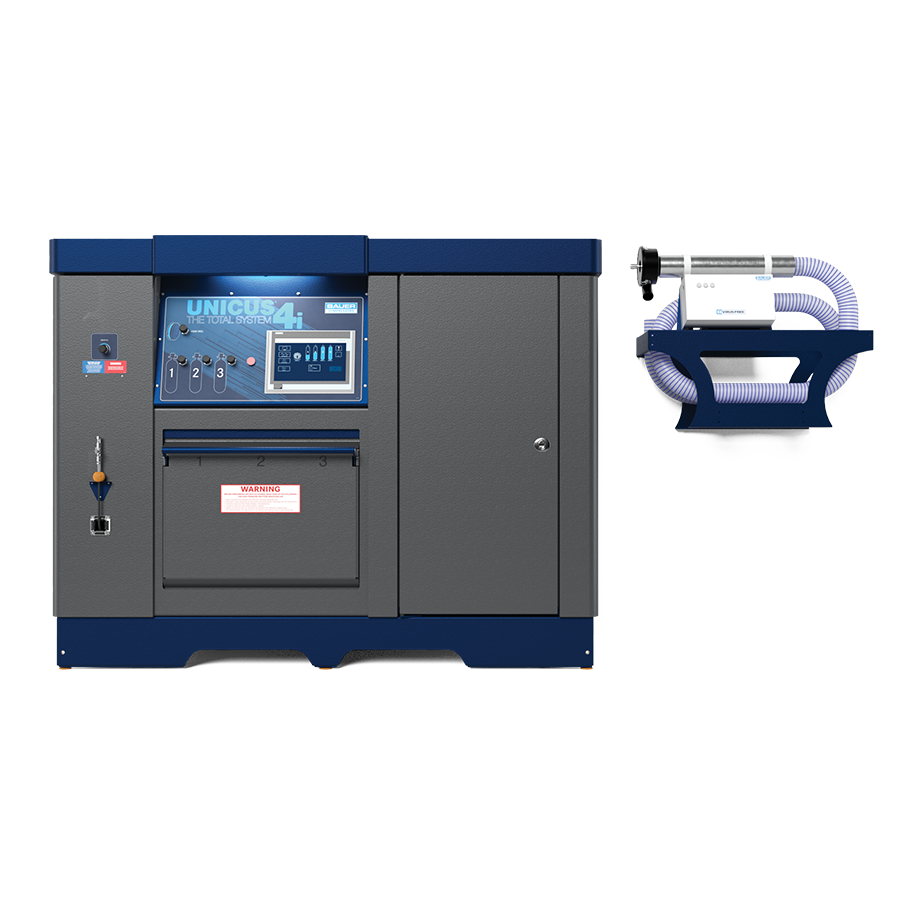 With VERTICUS®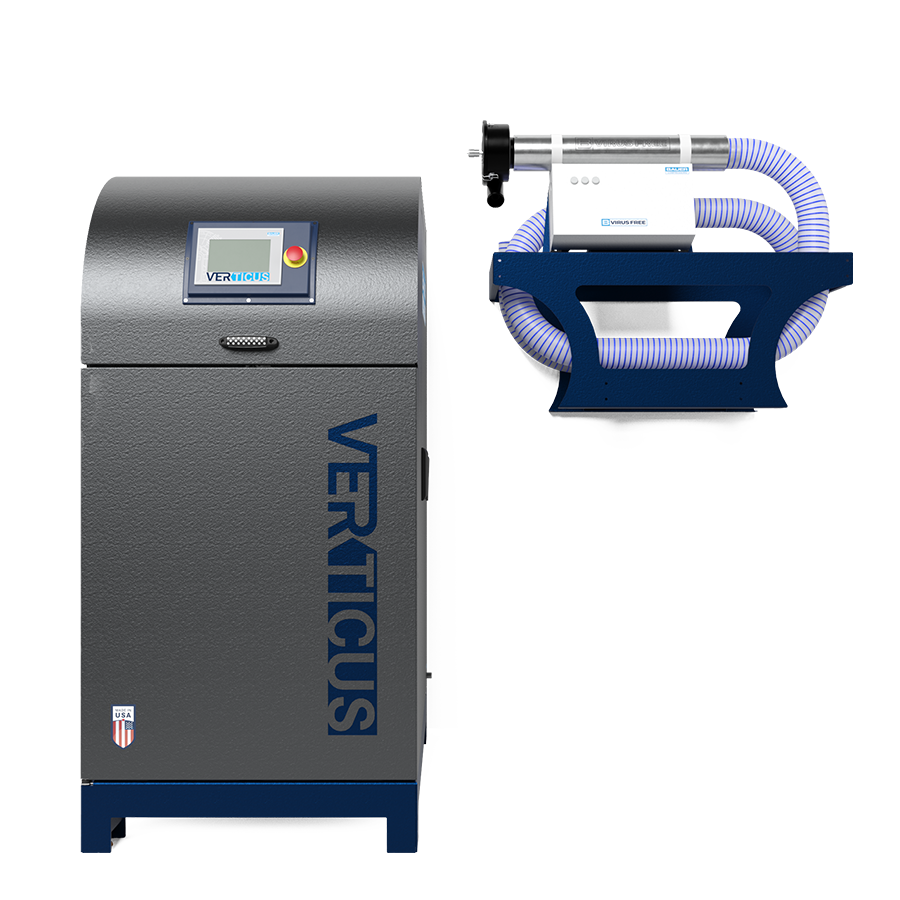 With VERTECON®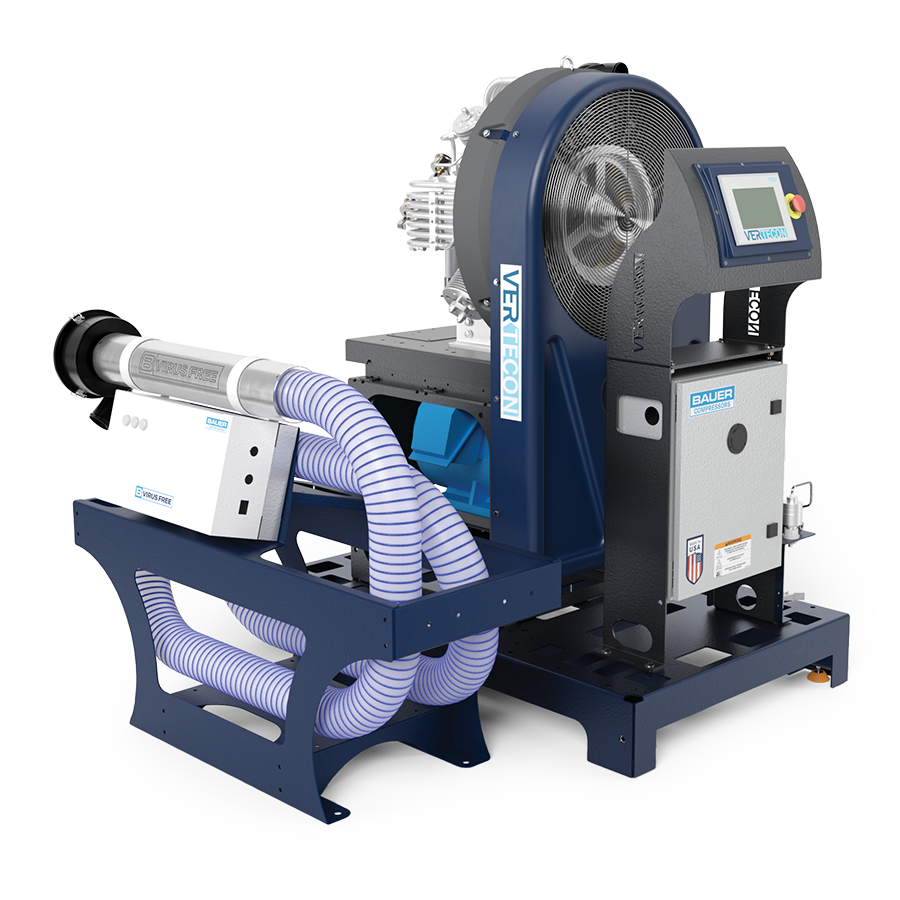 TECHNICAL DATA
BAUER B-VIRUS FREE®
 
Values
APPLICATION
 
Pressure Range
Atmospheric Intake Air
Compressor Charge Rate Range
3.5-30 scfm (100 - 850 l/min)
FUNCTIONS
 
Required Warm-Up Time
60 secs
Visual Indicators
Warm-up/Normal/Fault
Audible Signal
In case of fault
TECHNICAL DATA
 
Permissible operating temperature range
+41°F(+5° C) to +105° F (+40° C)
Operating voltage
110/220 volts, ac, single phase (60/50Hz)
UV lamp service life
2000 hrs or every 2 years
Weight filter unit
approx.17.5 lbs (7kg)
Weight control box
approx.12.5 lbs (5kg)
Dimensions  W x D x H inches (mm)
36"x10"x18" (905x250x450 mm)