Keith Hodak - Western Region
Contact Keith to find out how he can help you with your Public Safety Equipment.
Keith.Hodak@bauersf.com
Phone: 714-287-0609
Tim McGuire - Branch Manager
Contact Tim to find out how he and his team can help you with your Public Safety Diving needs.
Tim.Mcguire@bauersf.com
Phone: 510-909-2476


To see the entire brochure
Hoods
H41 INTERCEPTOR with DuPont™Nomex® Nano Flex
With the power of DuPont Nomex Nano Flex particulate-blocking technology laminated between two layers of 6.0oz PBI/Lenzing (20%/80%), FireDex's H41 Interceptor Hood boasts superior situational awareness while reducing firefighter's exposure to harmful fire ground carcinogens. Offering the closest fit to a classic knit hood, the H41 Interceptor provides extreme comfort and durability while maintaining excellent breathability.
Certified to NFPA 1971
Available in two styles: Total Coverage and Zone Coverage 
TOTAL COVERAGE
Our total coverage option satisfies more than the minimum NFPA requirement by carrying the particulate hood blocking technology throughout the entire hood including the neck, ears, jawline, side, and top of the head, as well as the SCBA interface and bib.
ZONE
COVERAGE
For those seeking great protection at a lower price point, we offer a zone coverage option that focuses primarily on the high-permeable areas of your skin, around your face and neck. This hood design meets the NFPA standard for a minimum area of coverage.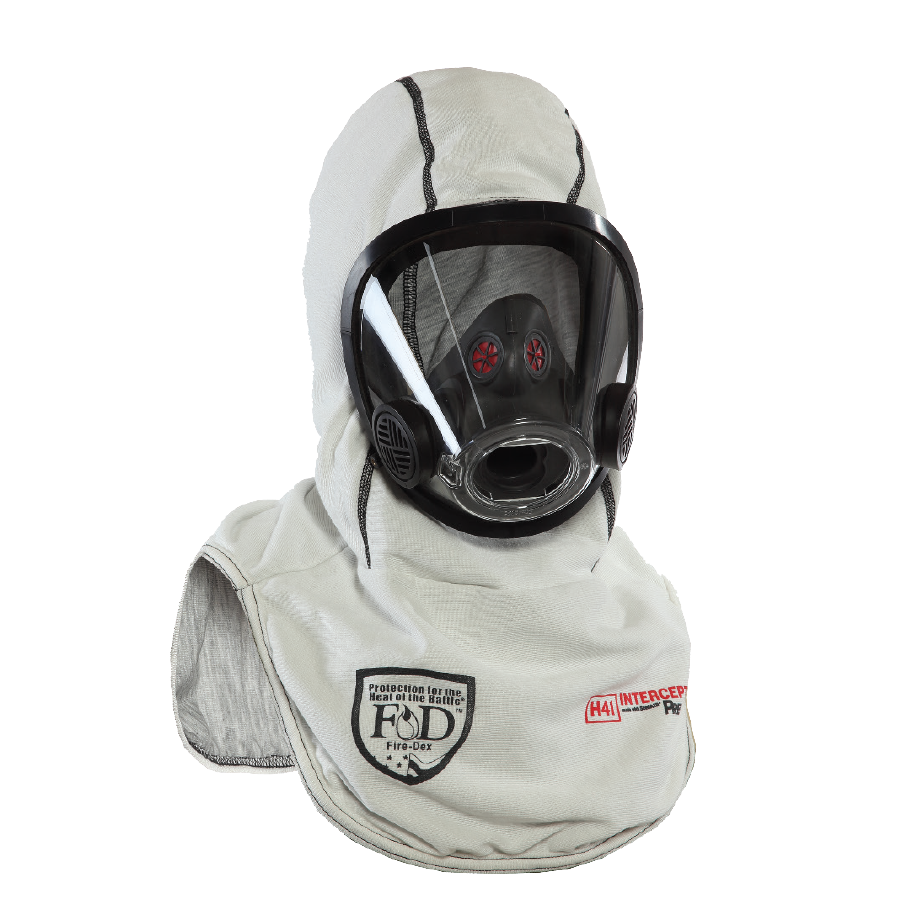 H41 Interceptor with Stedair® Prevent
H41 Interceptor with Stedair® Prevent
Made with Stedair® PREVENT, the H41 Interceptor Hood is built for durability and blocks 99.9% of persistent fire ground carcinogens, even after 100 washes.
The H41 Interceptor hood with Stedair® PREVENT features barrier technology that is carried throughout the entire hood including the neck, ears, jawline, side and top of the head, as well as the SCBA interface and bib.
This 2-layer particulate blocking hood features an outer layer of 8oz Nomex®/Lenzing (20%/80%) and an inner layer of Stedair® PREVENT. 
CAPTAIN JIM FIRE HOOD with Stedair® Prevent
The Captain Jim Fire Hood with Stedair® Prevent helps to reduce exposure to persistent fire ground carcinogens while keeping its long-established reputation for superior TPP and THL performance.
Designed to be one-size-fits-all, this predominantly Spentex® hood combines comfort, thermal defense, breathability, and extended durability. Each hood features an elastic face opening to ensure proper interfacing with any SCBA mask and an extended bib for added protection.
TURNOUT GEAR
TECGEN51
This single-layer garment is designed to reduce heat stress and exposure to harmful carcinogens. With high levels of thermal protection and incredible breathability. TECGEN51 Fatigues make a comfortable fit for everyday department needs.
THE PERFECT FIT FOR:
Extrication, Search & Rescue, Confined Space, Wildland, Grass, & Brush Fires, Trench Rescue & Reserve/Explorer Programs
Dual certified NFPA 1951 & 1977
Wearing structural gear on non-fire emergencies can cause unnecessary stress on your body and contribute to repeated exposure to contaminates
Wear TECGEN51 Fatigues as your daily PPE to minimize exposure to carcinogens
Our lightweight, single-layer garment is the perfect fit for 90% of your calls
USAR
Lightweight, breathable protection for technical rescue, emergency medical, and other non-fire incident calls where rugged durability and bloodborne pathogen protection are needed.
Built with a sewn-in CROSSTECH® S/R moisture barrier that adds protection from liquids and commonly encountered chemicals, our USAR gear comes with your choice of material: TECGEN51 Fabric or Nomex Essential.
Dual certified NFPA 1951 & 1999
EMS
Made for Emergency Medical professionals, our durable EMS gear is waterproof and bloodborne pathogen-resistant to provide optimal protection from line-of-duty hazards.
Built with a sewn-in CROSSTECH® EMS Moisture Barrier that adds protection from liquids and commonly encountered chemicals, our EMS gear comes with your choice of material: TECGEN51 Fabric or Nomex Essential.
For colder climates, add an optional fleece liner that can be easily removed when it's not needed!
FXR CUSTOM TURNOUTS
FXR turnouts are specifically designed to minimize firefighter stress and fatigue through Active Posture Design™, allowing for a full range of motion - especially while wearing your SCBA!
Certified to NFPA1971
OmniDex™ Shoulder - Eliminates coat rise and sleeve retraction by moving the shoulder seam to the natural bending point.
OmniDex™ Shoulder Interface with SCBA - Designed to work in conjunction with your SCBA - no material bunching under or around SCBA straps, preventing "shoulder-lifting" your air pack when reaching or crawling.
Seamless Collar - Comfort and NFPA compliant protection without the need for a throat tab.
DexFlex™ Elbows - Added pleats bend the sleeve to the natural shape of the arm, providing less restriction in movement.
Allows for Shorter Coat Length - With the dramatic reduction in coat rise, wearers can safely opt for a shorter coat which eliminates the restriction on upper legs (30" coat shown).  Reduced coat length also means less fabric and therefore less weight.
Athletic Cut Design - Provides natural movement and comfort in a forward firefighting position.
Comfort Inseam - Replaces the standard 4-way seam in the crotch with a seamless gusset to reduce bulk and wear & tear.
DexFlex™ Knees - Move freely and reduce resistance with naturally-bent knees.
Gloves and Boots
DEX-PRO GLOVE
3D, innovative design built with three layers, just like your turnout gear! Materials include 3oz Cowhide outer protection, a military-grade DuPont™ Nomex® thermal liner, and a Porelle® FR moisture barrier.
Certified NFPA 1971
Rollover Fingertips - Get a grip with tactically designed seamless fingertips.
Dexflex Fingers - Reduce restriction and minimize hand fatigue with naturally-bent fingers.
Keystone Thumb - Get more flexibility with a 360-degree range of motion with the keystone thumb design.
Reinforcements - Reinforced knuckle and palm guards provide added thermal protection against conductive heat.
Military-Grade Nomex® Thermal Liner - MIlitary-grade, 100% Nomex thermal liner is designed with a 9oz interlock weave to eliminate restriction when making a fist or grasping objects.
Porelle® Moisture Barrier - Porelle® is a thin, lightweight, and breathable polyurethane barrier that is highly flexible and helps to reduce bunching and restriction.
Top Grain Cowhide - Specially treated 3oz top grain cowhide tanned with a proprietary blend of silicone and other additives is designed
to keep the glove-soft after repeated wet/dry cycles.
FDXL200
Built to keep you energized during long 24 hour days, the FDXL200 Firefighting Boot outperforms standards with a combination of technologies and materials that make it the best choice for slip resistance, flame resistance, liquid and bacterial protection, comfort, and durability.
This boot will have you feeling light on your toes but strong on your feet with the flexibility that's reminiscent of your running shoes.
Our FDXL200 Red Leather Structural Firefighting Boot was thoughtfully designed with barrier protection to fight against hazardous liquid splashes and ribbing that limits ride-up and maintains a seal with any leg dam, including those containing particulate barriers.
Unlike traditional sewn-on straps, the FDXL200 is built with heavy-duty integrated handles that never break or pull off when donning your gear. The integrated handle design reduces bulk and never interferes when you're climbing, crawling, or lifting on the job. You'll never want to wear a different pair of boots again.
Certified NFPA 1971 & 1992